Buller's next 10–year plan
Your thoughts, your plan, your community's future, let's bring it together.
We embarked in October 2023 on shaping Buller's next 10-year plan together with our community to create a plan that has the communities' aspirations at its heart.
As part of this we asked the community what their vision and priorities for the next 10 years were. During five weeks of polls, surveys and conversations, the community put their voice on the table.
We received 332 responses to the feedback survey and 170 responses to our quick polls. This brought the total number of responses to over 500.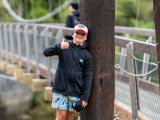 Connect is out NOW!
Plenty to read in our December edition! 
This issue features Jamie's Mayor's message, an update about Buller's next 10-year plan, Buller's new online Funding Finder tool and upcoming community grants rounds, the latest news from our port and roading teams, Westport's 150th anniversary celebrations, information about the proposed new waste management system and a recycling refresher, plus some handy tips for being water savvy this summer, both inside the house and out in the garden.
Our bi-monthly newsletter is a great way to stay up to date with what Council is doing in our community.
How we're shaping our district
Our goal is to promote the well-being of our local communities. We have a wide range of responsibilities under the Local Government Act. Local government affects you daily. We encourage you to get to know us and to find out more about how you can participate in local decision-making.
Buller's new Funding Finder is live
Community groups and businesses in the Buller District can now find grants more easily with Buller's new Funding Finder. 
Buller District Council has joined forces with New Zealand and Australia's most powerful grant search engine, GrantGuru, to deliver a free one-stop-shop grants portal. 
Organisations and individuals can use the search engine to find available grants and filter them by specifying industry and type of project. 
The Funding Finder hand-picks funding opportunities from all government and private sector grants available, including Council's grants and initiatives.  
Get out and about in Buller
Our 8,574 square kilometers boasts two national parks, one forest park, and two heritage areas, all offering the opportunity to experience peace and tranquility or excitement and adventure. Our district is unbeatable in its diversity, and a great playground to work, live and explore.
Meetings and Mayor chats
Council's monthly meetings are open to the public unless there is reason to consider some items "public excluded".
You can meet our Mayor, on a first come, first seen basis, during one of the regular Monday Mayor chats at the Clocktower Chambers, 9am - 12pm. Drop-in days in Reefton and Karamea are also available.
Need a good read ?
Our community newsletter Connect is always worth a look to stay up to date with what Council is doing in our community.
Connect is printed on a bi-monthly basis and delivered throughout the district.
You can sign up to our newsletter online and receive your issue straight and conveniently into your inbox.
Living in Buller
With an enviable climate, laid-back lifestyle, and friendly community vibe, the Buller district is a great place to live, work, and visit.
Buller has so much to offer. You will be surrounded by national parks, beautiful beaches, and an abundance of outdoor activities. The added bonus of never worrying about traffic or parking, leaves plenty of opportunity to get out and explore, creating exceptional work life balance.
Request a recycling bin online!
Do you need a new glass crate, a replacement recycling bin, an additional wheelie bin to deal with your recycling, or did you moved into your new property and want to get your recycling containers? 
Eligible properties in refuse and recycling zone one in Buller can request glass crates and recycling wheelie bins easily and conveniently through or online form.
Zone one covers Westport, the areas from Westport to the Mōkihinui Bridge, Westport to Punakaiki, Westport to Reefton including Blacks Point, and Reefton to Ikamatua.