In July 2021, and in February 2022, heavy rainfall caused severe flooding in Buller District causing damage to properties, interrupting people's lives, and shaking up our community.
The Mayor declared a state of emergency in response to both flood events. In a massive, combined effort under the guidance of Civil Defence, local and national agencies, defence force personnel, organisations, businesses, and individuals pulled together and navigated our community through the challenging times immediately after the floods.
The Buller Flood Recovery Team was established in August 2021 after the July floods by the Buller District Council to support the recovery of the Buller District.

Where to find information?
To connect to flood support services and get the latest recovery information go to the Flood Recovery website.
Key pages to view on the Flood recovery website are:
Don't forget you can get updates on the Flood Recovery Facebook page
Read our comprehensive brochure for flood assistance information, FAQs, contact details, and support agency details. All you need to know in one brochure here.
You can also watch videos on the science of flood, river and weather modelling, along with insight into the Kawatiri Business Case for future flood resilience.
Where to get help?
The Community Hub and Navigator service was set up after the July 2021 flood and the following floods in February 2022. It was initially intended to run for a year but was extended in response to ongoing community need. The Community Hub on Palmerston Street, Westport has now closed and the Navigator service has wrapped up.
The Hub's final day was 27 January 2023.
Buller Flood Recovery's Community page provides a lot of information on where to go for help and support as the Social Recovery arm of Buller Flood Recovery has largely wound down.
Red or yellow stickered?
If you still have a red or yellow placard on your house and want to find out about the process to remove that, our checklist is here to help.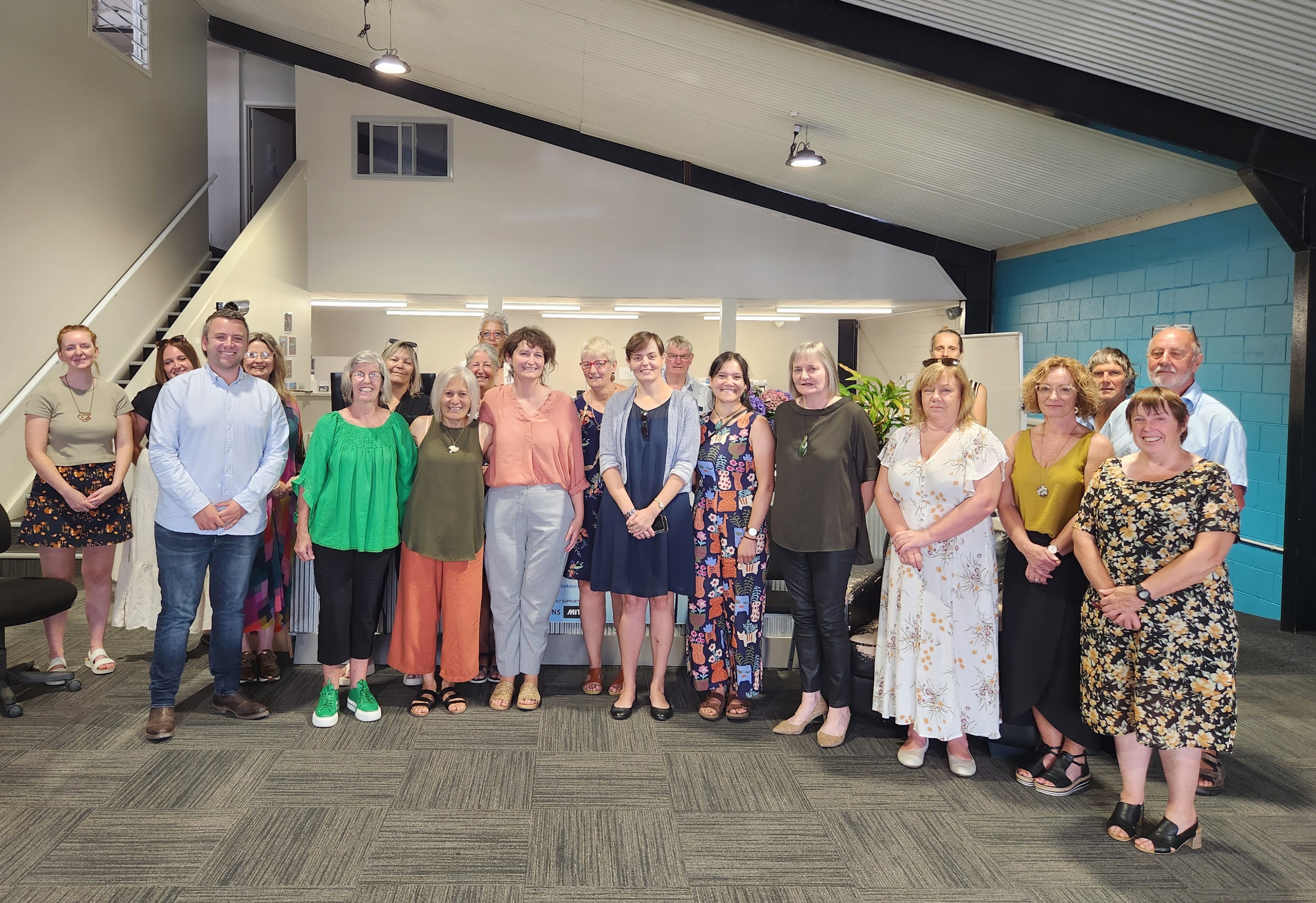 Buller Flood recovery team members with Navigators past and present, along with representatives of local NGOs and Council's Acting Chief Executive Rachel Townrow, at the Community Hub closing event on 27 January 2023.
You may also be interested in